A friend of mine told me about an amazing website for the simplest, yet very effective, workout. Push ups!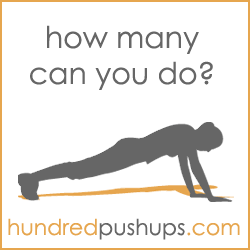 Today, I decided to start the challenge . . . one hundred consecutive push ups within six weeks! You take an initial test to determine what level you're at and then you do push ups three non-consecutive days a week (i.e. Mon, Wed, Fri). It only takes 10 minutes so there's no excuse! The best part of it is that you can also log your scores on the website!
If you're up for another challenge (and have another 10 minutes to spare), you can also do the sit ups challenge . . . two hundred consecutive sit ups within six weeks!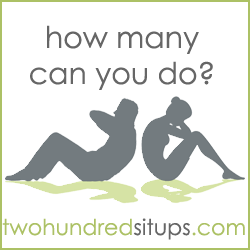 It works the exact same way as the push ups challenge and you can also log your scores under the same account.
I decided to do both of these challenges (as my gym membership expired and I'm waiting for spring so I can start jogging outdoors again) and I'll be sure to let you know how it's going in a few weeks. After finishing the first day for each challenge, I'm definitely feeling it in the abs!
Go check the websites out and read about the programs and how effective they are! It only takes six weeks and by then, it'll be second hand and you can tell everyone about your new-found strength! Spring is creeping up on us and before you know it, it'll be summer. Let's get those sexy abs showing on the beach!
Let me know how it goes and good luck!